Between Rhône and Jura

Departure from Meyrin Village to reach the CERN,
visit the Globe of Science and Innovation, electric bike
ride through the vineyards of Mandement by hamlets Choully,
Peissy and Malval, stop Dardagny in a vineyard for a tasting
brunch the production of a wine. Stroll from Dardagny to
Teppes Verbois nature reserve on the banks of the Rhone.
Back to Meyrin by Peney and Satigny


Wine Tour
Between Jura and Mont-Blanc
Start of electric bike tour Meyrin Village,
through the vines Mandement across the hamlets
of Choully, Pessy, and Malval Essertines to reach
Dardagny. Return to Meyrin by Russin, Peney Dessus
and Dardagny. Wine tasting of its production at
a winegrower.


Chocolate tasting and
famous love letters
You will be received by typical genevan chocolate
makers as « Paganel », « Christophe Berger » and « Favarger ».
While you'll taste their specialities, the guide will present
you famous love letters from different writers as John Keats,
Simone de Beauvoir, Victor Hugo or Apollinaire. Biking,
chocolate tasting & literature : a hedonistic program !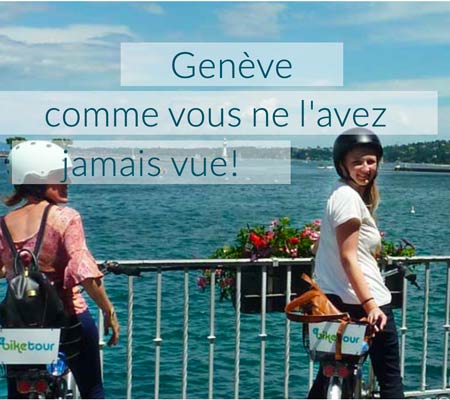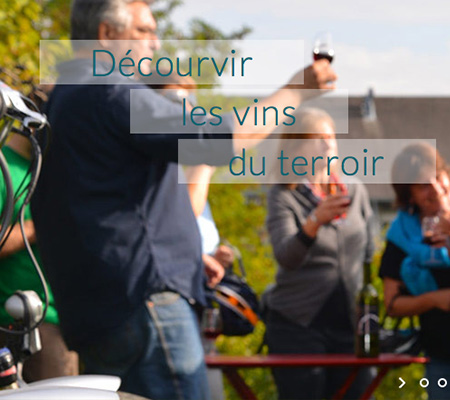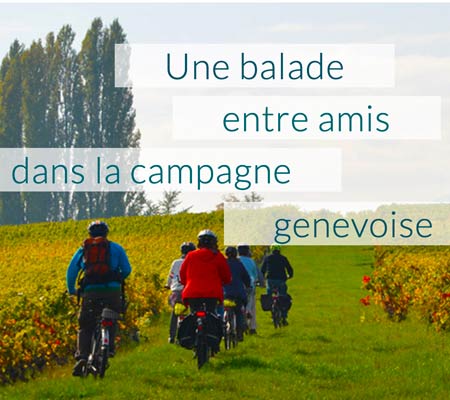 We are currently adding a bicycle tour booking system to the English version of our site. It is already available on the French version by clicking on this link.
The Magical Geneva eBIKETOUR
Live the unique opportunity of riding through the heart of the Geneva countryside with the comfort of a wonderful electric bike. Discover the "Mandement", and its magnificent landscape while reliving your light-hearted youth, spinning along with the wind in your hair!
Living in the city we tend to forget that Geneva has a real rural area, chock full of unexpected treasures just outside its gates.
We will guide you through the "Mandement", a main wine-growing region, with intimate natural areas so that can enjoy it at the helm of the latest version of the Flyer electric bicycle.
eBIKETOUR is for everybody : Individuals, Organisations, Sportives, People in recovery, Tourists and Geneva locals
Don't delay, sign up today!